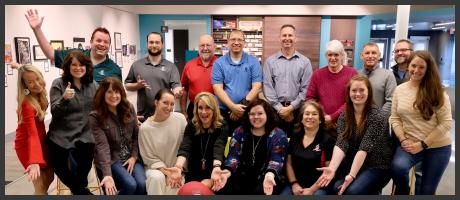 The KCCC Board of Directors, representing companies from throughout the Kansas City area, governs the Kansas City Corporate Challenge. These Board Members are not permitted to participate as athletes in the Corporate Challenge while serving on the Board but have the knowledge to provide valuable input from the companies' perspective, making the Games the best they can be. In addition to the specialized area that they direct, each Board Member is a part of the overall decision-making process that governs the entire KCCC. Our thanks to these individuals, and to their companies for allowing them the time to be a part of our organization. The members of the 2023 KCCC Board of Directors are:
Chad Tower
Executive Director
Kansas City Corporate Challenge

Jason Robertson
Past President
Fluid Equipment

Matt Rusher
Administrative Director
Kansas City Corporate Challenge

Zack Beyer
Director of Promotions & Donations
City of KCMO

Missy Barnett
President
Corporate Fitness Works

John Mitchelson
Director of Technology
SelectQuote Insurance

Ace Sims
Vice President
Team Drive-Away

Becka Manakul
Director of Volunteers
Earp Distribution

Rebecca Earp
Director of Media and Public Relations
Retired - Earp Distribution

Lori Schiffer
Director of Internet Communications/Archives
Corporate Fitness Works

Jackie Sessler
Special Events
Beumer Group

Makayla Maslanka
Member at Large
ICON

Ben Hess
Games Director
JCPRD

Bob McMillin
Games Director
Retired - Fred Arbanas Golf Course

Katy Renner
Games Director
JCPRD

Darrel Bixby
Member at Large
Retired - UMB

Amanda Kramer
Member at Large
Team Drive-Away
Sally Cook
Charity Representative
Cornerstones of Care

Melissa Taylor
Member at Large
Maximus Federal

Kim Herman                                                                      Presenting Sponsor Liaison                                                      PNC Bank

 

Kristy Ladd Culp

Presenting Sponsor Liaison

PNC Bank
If your company would like to have a representative on the Kansas City Corporate Challenge Board of Directors, please contact our office at kccorporatechallenge@gmail.com.