Join us for the 20 in 2020 Challenge!
How it works
Complete at least 20 activities that embody the KCCC Mission of Health, Wellness, and Camaraderie (note: you are only required to complete 20 activities IN TOTAL and are free to choose across categories – mix 'n match!)
As you complete a challenge, document your victory with a photo or video.
Send your complete collection of victory photos/videos to kccorporatechallenge@gmail.com along with a list of your completed tasks. Please do not send one completed activity at a time – only submit your completed challenge in its entirety (i.e. all 20 completed activities together). The KCCC office will not keep track of your completed activities.
The victory swag
The first 1,700 participants to complete 20 challenges and submit their victory photos will earn a 2020 GOLD MEDAL
The first 1,700 participants to complete 15 challenges and submit their victory photos will earn a 2020 SILVER MEDAL
The first 1,700 participants to complete 12 challenges and submit their victory photos will earn a 2020 BRONZE MEDAL
*The fine print
The challenge will end Saturday, June 27th at midnight and all submissions must be made prior to this date.
Participants are only eligible to receive ONE medal. Do you have your sights set on a bronze, silver, or GOLD?!
Medals will be distributed at a later date after the close of the competition and will be awarded on a first come, first served basis regarding participant submission date.
By submitting your photos and video you are consenting for their potential (and probable) use on our social media. Don't want that kind of fame, that's fine too!  Just let us know in your email that they are not permitted for publication.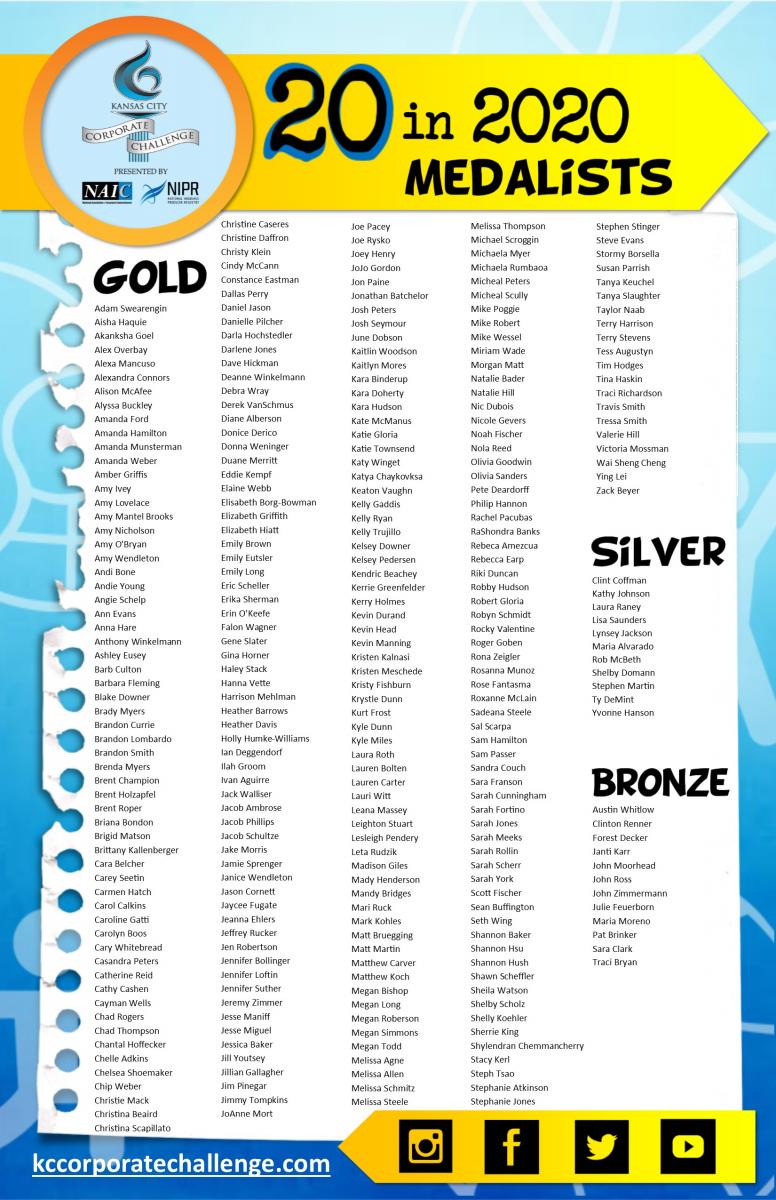 Follow us on Facebook for updates on the 20 in 2020 Challenge!
Disclaimer and Waiver Re: Posted Multimedia Content
The information contained in the posted multimedia content including, but not limited to video, audio, images, text, animation, and  links to other websites (collectively, the "Shared Content") represents the views and opinions of the original creators of such Shared Content and does not necessarily represent the views or opinions of Johnson County Park & Recreation District (JCPRD), Johnson County Government, or the city of Kansas City. The mere appearance of Shared Content on this website does not constitute an endorsement by JCPRD or its affiliates of such Content.
The Shared Content has been made available for informational and educational purposes only. Although the information contained in the Shared Content has been produced and processed from sources believed to be reliable, JCPRD does not make any representation or warranties with respect to the accuracy, applicability, fitness for a particular purpose, or that the Shared Content is without defects or is error-free. JCPRD does not warrant the performance, effectiveness or applicability of any sites listed or linked to in any Shared Content.
The Shared Content is not intended to be a substitute for professional advice. By the use of the Shared Content, you (User) solely assumes any all associated risks, both known or unknown.. User agrees not to assert any claim, institute any suit or other legal process against JCPRD, its officers, officials, employees, or agents for injury, death, or damage resulting from or in any way related to use of the Shared Content.
JCPRD, its officials, officers, employees and agents hereby disclaim any and all responsibility or liability to any party for any direct, indirect, implied, punitive, special, incidental or other consequential damages arising directly or indirectly from any use of the Shared Content, which is provided as is, and without any warranties. JCPRD makes no representations relating to the rights, permissions and authorizations in providing User with the Shared Content, including no warranties of non-infringement. JCPRD does not grant User any right, title, or interest, express or implied, in any way related to the Shared Content or its use.