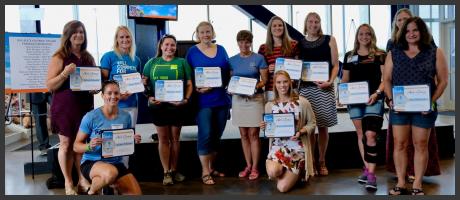 2023 Alex George Nominations are due by 5pm on Wednesday, June 28th
Each year the KCCC Board of Directors honors one male and one female with the Alex George Award for Excellence Award. Submit a standout member from your team for this prestigious award!
Alex George was a driving force behind the creation of KCCC when it began in 1980. To honor one of our great founders, we have created this award to recognize an outstanding KCCC participant that goes above and beyond to make their team and/or KCCC as a whole better. We proudly present the Alex George Award annually to a male & female recipient at our annual Closing Celebration. 
Below are the qualifications for the award. Nominations are due June 28th at 5pm. Please try to only submit one male and one female nomination per company and be sure to send us a brief description of your nominee or nominees. A picture is highly recommended as well. 
QUALIFICATIONS CONSIDERED FOR THE ALEX GEORGE AWARD
Athletic Ability

Ability to overcome obstacles in performing athletic events

Dedication to the Kansas City Corporate Challenge in organizing and promoting the events

Selflessness in dealings with KCCC

Sportsmanship with regard to other competitors and persons involved with the Games

*(Applicants don't have to have all qualifications to be considered for this Award)

 
PAST ALEX GEORGE AWARD FOR EXCELLENCE WINNERS
1987: Becky Watson – AlliedSignal; Dave Mullnix - Mobay Corporation (Bayer)
1988: Candace Gwin - Saint Luke's; Joe Bessenbacher - Marley
1989: Barbara Allmon - H&R Block; Larry Johnson - Bethany Medical Center
1990: Gail Goede - Baptist Medical Center; Jim Hinkle - Baird, Kurtz & Dobson
1991: Brenda Weare – NCAA; Bob Langlands - PARS (Worldspan)
1992: Sandy Mabon - KCK Post Office; J. Gattermeir - AT&T
1993: Athena Wong - Procter & Gamble / Folgers Coffee; Gary White - House of Lloyd
1994: Patty Adams – Pfizer; Ron Chisolm - Seaboard Corporation
1995: Carol Adams - U.S. Army Corps of Engineers; Joe Streumph - House of Lloyd
1996: Jan Schmidt - KU Medical Center; Scott Gordon - Barkley Evergreen & Partners
1997: Myra Everette – AlliedSignal; Mike Watkins - U.S. Army Corps of Engineers
1998: Lory Miller - Johnson County Park & Recreation District; Andy Gharavi - HNTB
1999: Gayle Freeman - Black & Veatch; Joe Biddle - Yellow Corporation
2000: Jody Goddard – Honeywell; Ron Haller - Saint Luke's Health System
2001: Nancy Larson - Westlake Ace Hardware; Phil Ratterman - Bridge Information Systems (Reuters)
2002: Julie Fish – Worldspan; Phil Dougherty - Ellerbe Becket
2003: Vicki Nigh - U.S. Army Corps of Engineers; Joe Ratterman - LabOne
2004: Lisa Morris - Burns & McDonnell; Egbert Jakobs - Procter & Gamble
2005: Hope Green - Midwest Research Institute; John Teegarden - Multi Service
2006: Holly Pozdell - BRR Architecture; Bob Dill - American Trust Administrators
2007: Linda McCann - Andrews McMeel Universal; Pat Walsh - Ferrelgas
2008: Jenny Johnson - John Deere Company; Bill Marko - Swiss Re
2009: JJ Barker - Balance Innovations; Jerry Burkett - John Deere
2010: Julie Lawrence – Pivot; Tim Clark - DST 
2011: Robyn Goad – CSC; Reece Robinson - Grundfos Pumps Corporation
2012: Sharon Willis – USDOT; Aaron Soltz - Freightquote.com
2013: Kelly Dippold - Lockton Companies; Kirk Willard - Xenometrics, LLC 
2014: Hope Green – MRIGlobal; Tim Wigger - Pain Train
2015: Yvette Tunley - City of KCMO; Larry Rink - North American Savings Bank
2016: Jenny (Dorsey) Rucereto – Freightquote; Brent Roper - NAIC & NIPR
2017: Dallas Perry - AMC; Doug Hayden - SelectQuote Insurance
2018: Christi Scapillato - POWER Engineers; Gary Downes - US Engineering
2019: Sue Davison - UMB Bank, Brandon Currie - eSolutions
2021: Molly Postlewait - JCPRD; Jeff Hall - Ferrellgas
2022: Kellie Rusher - NAIC/NIPR; Stephen Woods - Swiss Re