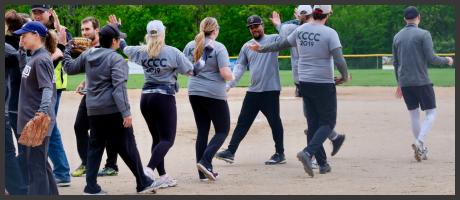 The KCCC Sportsmanship Award will take place throughout the duration of the KCCC Games.
NO KCCC POINTS are awarded for the Sportsmanship Award, three companies total (across all divisions) will be presented with the "KCCC Sportsmanship Award" at the 2021 KCCC Closing Celebration
The KCCC Board of Directors and KCCC Ambassadors will act as judges for the contest.
Criteria on which companies will be judged for the "Sportsmanship Award" are:

Fulfillment of volunteer requirement as assigned by KCCC
Fair and generous treatment of others at events
Demonstration of teamwork by company participants at events
Respecting and following all rules and guidelines at events
Sportsmanship toward other teams
The KCCC Board of Directors realizes that due to the nature of an event such as the "Sportsmanship Award," the judging will be subjective. While representatives from the Board of Directors do have a presence at all events, we welcome input from participating companies. Feel free to e-mail (kccorporatechallenge@gmail.com) with your comments regarding displays of notable sportsmanship that you have witnessed during the week. The Board will consider these comments in their tally.
For more information regarding the Sportsmanship Award, contact the KCCC Office at 913.831.2222 / kccorporatechallenge@gmail.com