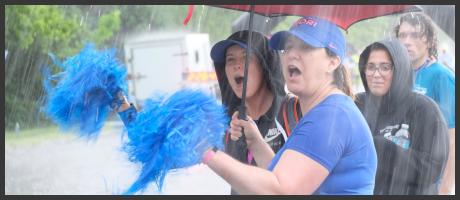 The KCCC Spirit Contest will take place throughout the duration of the KCCC Games.
NO KCCC POINTS are awarded for the Spirit Contest; three companies total (across all divisions) will be presented with the "KCCC Spirit Award" at the 2023 KCCC Closing Celebration presented by Helzberg Diamonds!
The KCCC Board of Directors and KCCC Ambassadors will act as judges for the contest.
Criteria used for consideration of the "Rebecca Earp Spirit Award" are:
Fulfillment of volunteer requirement as assigned by KCCC
Level of representation of company employees at events
Cheering/support of coworkers
Company banners will not be allowed at events, due to the exclusivity of banner display offered to event sponsors.  Display of banners is not a criteria that will be judged. 
The KCCC Board of Directors realizes that due to the nature of an event such as the "Spirit Contest," the judging will be subjective.  While representatives from the Board of Directors do have a presence at all events, we welcome input from participating companies.  Feel free to e-mail (kccorporatechallenge@gmail.com) your comments regarding displays of spirit that you have witnessed during the week.  The Board will consider these comments in their tally.
Participation in the KCCC Kick-off Party will not be considered in choosing the recipients of the Rebecca Earp Spirit Award.
The Spirit Contest is separate from all other KCCC Events.