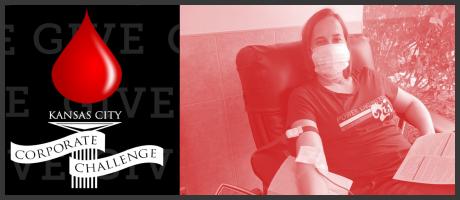 In partnership with the Community Blood Center and American Red Cross, the 7th annual KCCC Blood Donation Challenge will take place from
January 1 - June 30, 2021!
*NO CORPORATE CHALLENGE POINTS* are awarded for the Blood Donation Challenge. However, the company logging the most presenting donors will be presented with the "KCCC Blood Donation Challenge Award" at the 2021 KCCC Closing Celebration.Staff from both the Community Blood Center and
American Red Cross will administer the contest.
PARTICIPATING IS EASY; JUST FOLLOW THESE THREE SIMPLE STEPS!
1. Sponsor/host a blood drive with American Red Cross AND/OR the Community Blood Center
2. Send donors into into an ARC blood drive or CBC donation center to donate under your company name
3. Community Blood Center and American Red Cross will keep a tally of each registered donor
Any company who sponsors/hosts a blood drive will be awarded for each presenting donor. All registrations are verifiable through official organization documentation. Those companies that host more than one drive during the timeframe will receive 50 extra points toward their company's overall Blood Donation Challenge point total!  At the end of the challenge, whichever company from each division has the most presenting donors wins the "KCCC Blood Donation Award." The winning companies will be recognized at the 2021 KCCC Closing Celebration.
WHY DONATE?
Donating 1 unit of blood can save up to 3 lives
To support area hospitals, hundreds of units of blood must be collected each day
Blood and platelets cannot be manufactured, they can only come from volunteer donors
38% of the population is eligible to donate but only 7% do
Blood is supplied by VOLUNTEER DONORS like you
The number one reason people DO NOT donate is they are NOT asked
Will you save a life and DONATE??
LET'S MEET THE NEED
Blood Shortage
While temporary blood shortages are not uncommon during summer and winter months, the pandemic has created a chronic deficit between current blood donations and what is needed by hospitals.

The gap is 3000 donations per month in our community alone.  This shortfall is happening nationwide and showing no sign of improving. 

The foundation of how we donate blood has completely changed. Pre-COVID 19, we went to donors with community blood drives and now blood donors must seek us out.
Pre-Pandemic, 200+ community blood drives were hosted each month, currently we have around 100 blood drives per month. 
Blood donation is not a mass gathering or social event and is a designated essential service.
Individuals who are healthy and eligible to donate are encouraged to schedule an appointment to do so in order to maintain an available blood supply.
Convalescent Plasma
While COVID has no proven treatment, it is possible that plasma taken from those who have recovered (convalescent plasma), which has antibodies against the virus, could help.
CBC is asking all eligible recovered COVID-19 patients to come forward and donate convalescent plasma to helps those with serious or life-threatening COVID-19 infections.

Donors must have a lab confirmed positive COVID-19 swab or antibody test result and must be 14 days symptom free in order to donate.
COVID-19 Vaccinations
If a donor receives an mRNA vaccine such as Pfizer or Moderna, they can donate immediately after vaccination as long as they are feeling well and all other donor criteria are met. 
If a donor receives an attenuated virus vaccine such as AstraZeneca, they can donate 2 weeks after vaccination as long as they are feeling well and all other donor criteria are met. 
Donors may not donate COVID-19 convalescent plasma after they have been vaccinated, regardless of the type of vaccine they receive
WHO WINS?
The company with the most documented presenting donors at the end of the challenge will receive the Kansas City Corporate Challenge BLOOD DONATION AWARD! But the real winners are the hospital patients who need those lifesaving units of blood!
***Be sure to check back often as this site will be updated with available dates/locations of upcoming donation events. ***
For more information regarding the Blood Donation Challenge, contact the KCCC Office at 913.831.2222 / kccorporatechallenge@gmail.com