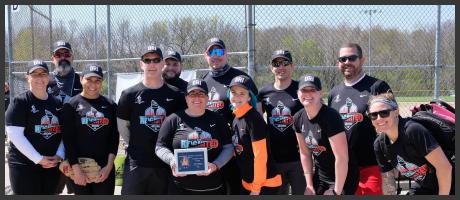 T-SHIRT CONTEST
KCCC's T-Shirt Design Contest is back! The contest is a design competition in which the KCCC Board of Directors looks at each t-shirt submitted for judging and chooses their favorite design. A prize is given to the winning company of this "Best T-shirt Design" contest.
Criteria the Board uses in making their decision:

Visual appeal and coordination of colors

Readability

Clearly illustrates company name or logo

Creativity / Originality of design

Kansas City Corporate Challenge name or logo displayed (logos can be found at www.kccorporatechallenge.com in the "About Us" tab on the homepage). Please follow the restrictions and/or instructions based on the logo you choose listed on the website.
However, having a company KCCC t-shirt is certainly a good way to promote teamwork and camaraderie, and to get your company name out to the KCCC community. Many participating companies go to great lengths to design and produce a great-looking t-shirt for their employees to wear while participating in the Kansas City Corporate Challenge. We applaud their efforts and provide this fun way to acknowledge and display their final product!

Companies who wish to have their company's KCCC t-shirt considered for the "Best T-Shirt Design" contest must submit their t-shirt by 5:00 p.m. on Tuesday, April 6, 2021. You can drop them off at either of these locations: Antioch Park (6501 Antioch Rd., Merriam, KS 66202) or Mill Creek Activity Center (6518 Vista Drive, Shawnee, KS 66218). The Board of Directors will judge all shirts and the winners will be announced Friday, April 9, 2021.

T-shirts submitted for judging will be available for companies to pick-up throughout the 2021 season.
This competition is just for "fun" (no KCCC points are awarded).
       For more information regarding the T-Shirt Contest, contact the KCCC Office at 913.831.2222 / kccorporatechallenge@gmail.com
2021 T-Shirt Contest Winner:
Design Resources, Inc.
Honorable Mentions:
Shick Esteve
P1 Group
MarksNelson
Ferrellgas
Service Management Group
Johnson County Park and Recreation District
MULTIVAC
Country Club Bank