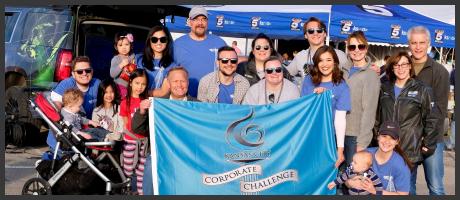 Join us as we kick-off the 2023 season! 
Kickoff is quickly approaching! For those who haven't attended this event, the first event of KCCC 2023 will host approximately 20,000 people, and includes the first event of the season - the KCCC Walk! The Kickoff Party/Walk is open to everyone—employees, families, friends, etc.
Here is the info you need to start planning your party! 
The tentative timeframe for KCCC Kickoff on Friday, April 7:
Setup open for teams: 10:00am
Setup MUST be complete by: 3:00pm
KCCC Walk / Fit-Tastic Family Fun Zone Open: 4:00pm
KCCC Walk Ends / Teams can begin tear-down: 7:30pm
Kickoff Event Ends: 8:00pm
 
No pets are allowed on the property, so please leave them at home.  SHARE THIS INFO WITH YOUR GUESTS, EARLY AND OFTEN!
Thinking Green!!  KCCC is working with Marquee, City of KCMO, The Royals, and each of you to make this event more environmentally friendly. Please Think Green when planning your event. More information will follow with specifics on trash & recycling on-site at the event.
Parking: all attendees will enter the Sports Complex through Gates 2 & 6 and will be directed to park in lots A, J, H, & I. ADA parking will be available in lot B. 
Encourage your employees to join us for a week of fun with daily themes! Share your photos and videos to social media with #KCCC2023!
Monday, April 3: Going for the Gold - Celebrate with all things GOLD! 
Tuesday, April 4: "ORANGE" you glad it's time for KCCC?! - Throw on your favorite orange ensemble in honor of our Presenting Sponsor, PNC Bank
Wednesday, April 5: Wellness Wednesday - Show us how you live the KCCC mission!
Thursday, April 6: Jersey Day - Chiefs, Royals, Sporting KC, YOUR company?!
Friday, April 7: Company Colors Day - Bring on the company pride! 
Get started planning your party! 
Equipment Rental: As in years past, Marquee Events is ready to help with your equipment rental needs for your Kick-Off Party and will be providing a portion of all proceeds back to KCCC. Please contact Tim Giblin at tgiblin@marqueerents.com or by phone at 785-979-9284
Catering: We always encourage companies to think of the Kick-Off Party as any other tailgate experience you would have out at the stadiums -- you're welcome to bring in your own beverages, grill, potluck, etc. We do ask that if you choose to cater your event, you utilize one of the great preferred vendors. These vendors have specialized their menu offerings just for the Kick-Off Party and are happy to work with you to make your tailgate experience as easy as possible!