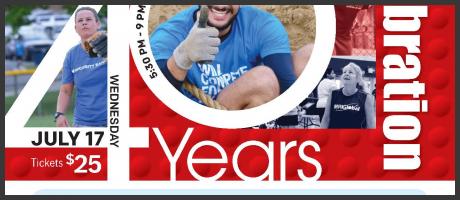 2019 AWARDS CELEBRATION
You came, you played, and now we CELEBRATE!
Join the FUN at Arvest Bank Theatre at the Midland as we honor the Divisional winners and announce the recipients of the prestigious Alex George Award. 
The event is scheduled to take place Wednesday, July 17th, 5:30PM - 9:00PM.  
We will award the top eight winners in each division; announce the recipients of the Alex George Award; honor sponsors; and recognize our charity, Special Olympics Kansas City Metro. It's sure to be a fun and exciting close to the 2019 Games! 
VIDEO CONTEST - The KCCC Video Contest is back!  No KCCC points are awarded, but our favorite videos will be a part of the Awards Celebration.  Use our theme (40 YEARS) and make your best 2-3 minute video. As with the T-Shirt Contest, we support any entries that pay respect to our early years (The 1980s!)  ALL VIDEO ENTRIES ARE DUE BY FRIDAY, JULY 12 .  Entries can be sent directly to kccorporatechallenge@gmail.com.