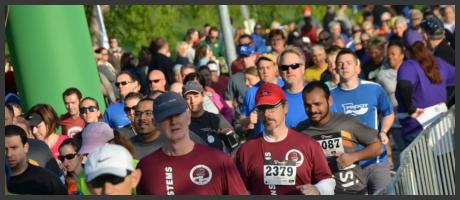 5K
Saturday, April 30th, 2022 at Burns & McDonnell (9300 Ward Parkway, Kansas City, MO 64114)
PACKET PICK-UP
Thursday, April 28, 2022 (11:00am - 6:30pm) – Antioch Park Bldg. A
Friday, April 29, 2022 (11:00am – 2:00pm) – Antioch Park Bldg. A
RACE DAY
• Once again, there is no race day packet pick-up.  NO EXCEPTIONS!
• Runners/walkers have 75 minutes to finish the event. Finishers will not be eligible for places, points, or medals after 75 minutes. No "extra" runners or walkers are allowed to participate - only your participants who have registered are allowed to run or walk on event day
• Participants will line-up in waves based on their estimated finish time. Waves will go off approximately every minute until all runners are on the course. Signs will be placed throughout the starting line and announcements will be made concerning how to line-up. Since chip timing will be used for the start and finish, regardless of which wave you start, your start time will be when you cross the starting line. 
• We will be using IPICO timing chips for this event. You will receive the timing chip in a white envelope with your bib number at packet pick-up. You will also receive 2 twist ties to securely fasten the chip to your shoe. These are reusable chips and we will retrieve them at the end of the race. If you decide not to run/walk, please return the chip to the KCCC office. If a participant does not wear a timing chip, he/she WILL NOT receive points (participation, medal or otherwise) for this event.
• ALL times and winners will be determined accournign to their Chip Time. Results will be finalized and posted no later than Wednesday, May 4th.
Downloads
Rules:

Rules