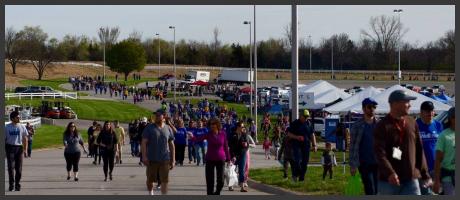 Kick off the 2018 KCCC season with us at the Truman Sports Complex!
KICKOFF PARTY DETAILS:
TIMES - The Kickoff Party is open from 4-8pm.  The KCCC walk is from 4:00 – 7:30pm. 
LOCATION - Truman Sports Complex, Lot L
ABOUT THE WALK
- How to check in if you are walking:
o ONE PERSON from each company will be responsible for picking up your company's check-in list from the KCCC tent, between 3:30 – 7:00pm. 
o Team participants will sign in on your check-in list at your company tailgate space. If you do not have a tailgate space, your company coordinator will likely have set a meeting place with your team members in advance so you can check in with your company coordinator/walk team leader on site.
- Anyone is allowed on the walk course. However, only employees from your company's participation list will count towards the points you are given for the Walk which is based on your Division. KCCC will also conduct random ID checks for participants signing in. Please instruct your team to be prepared with a photo ID if selected.
PARKING
- General parking is available for free through Gates 2 & 6 at the Sports Complex.
- DO NOT park on the grass around Lot L. 
- With the only (ONLY!) exception of ADA parking, we will not allow people to enter and exit Lot L while the walk route is open (4:00-7:30pm). No amount of being rude or impatient with volunteers or KCCC staff will change this policy. If you want to enter/leave at will, park somewhere other than Lot L.
- ADA parking is available through Gate 3, and will be parked in Lot L. KCCC will provide a complimentary shuttle for those who need assistance to/from ADA parking.  (NOTE: This is in a different location than last year, but is still accessible through the same gate – Gate 3.)
WEATHER – If you have any questions regarding weather, please refer to our KCCC Rainout Line (913.312.8843 or 913.686.6030x 15), our website (www.kccorporatechallenge.com), or follow KCCC on social media (Facebook, Twitter, Instagram) for updates.
PETS – We love pets, but they are not allowed at this event. Again, NOT allowed. 
What other fun stuff is going on at the Kick-Off???
1. Come check out the Fit-Tastic! Family Fun Zone presented by Children's Mercy Hospital and Johnson County Parks & Recreation! We will have a fun, interactive play area promoting healthy lifestyles. Come and be active as a family!
2. Did your company participate in a Dress Down Day for Special Olympics or do you have one scheduled for next week? Special Olympics will be available at the Walk finish if you want to bring any Dress Down Day proceeds.
3. The winners of the KCCC Best T-Shirt Design will be on display at the KCCC check-in tent. Be sure to check them out!
4. Our Gold Sponsor, PNC Bank, will have a number of great activities for you to enjoy near their space at the finish line.  Our Blood Donation Challenge sponsors (American Red Cross & Community Blood Center) will be on hand to help you schedule those blood drives during the KCCC season. And that's not counting all the samples & giveaways happening at many company booths. Make the rounds and get to know your neighbors!
THE 2018 KCCC KICK-OFF IS SPONSORED BY:
AMERICAN RED CROSS  *  CHILDREN'S MERCY HOSPITAL  *  COMMUNITY BLOOD CENTER  *  CULLIGAN OF GREATER KANSAS CITY  *  eSOLUTIONS  *  FARMERS INSURANCE  * MID-AMERICA REGIONAL COUNCIL